The guide to stress-free wedding planning!
This is how the second phase of your journey towards your "I do" day unfolds
Now it is time to go into more detail about the organization. At this stage, you need to start looking for your wedding dress, plan your honeymoon and draw up your wedding list, choose your flower arrangements and wedding favors and send out your wedding invitations.
There are still many decisions to be made, but with good planning, you will be able to tick off all the items on your checklist step by step and without anxiety.
Here are 5 key steps to take in the second stage of organising your ideal wedding…
WEDDING WITNESSES
Witnesses are essential figures, so their identification should not be underestimated. First of all, they will be there for you during the planning stage, giving you advice, personally taking care of some of the responsibilities you have entrusted to them or listening to your outbursts, but above all they will support you during the best day of your life. The advice is therefore to choose people close to you, such as family members or best friends.
THE WEDDING DRESS SEARCH
If the wedding day is about 8 months away, it is time to start the "atelier tour". The choice of a bride's dress is certainly one of the most difficult but also most exciting aspects of the whole organizational phase.
The first piece of advice is to make an appointment with the atelier to ensure that you have a consultant at your disposal. Another recommendation before starting the search is not to fixate too much on a particular model, but also to examine hypotheses that were not initially considered.
HONEYMOON AND WEDDING LIST
The honeymoon is probably the most fun part of planning. When choosing a destination, certain aspects such as the availability of holidays for both parties and the budget for the trip have to be taken into account. However, it has become customary for the bride and groom to ask their guests for a gift of a certain amount of money to cover the costs of the honeymoon. Nevertheless, if you have a dream destination, the advice is to go there, because this will be your most beautiful and unforgettable trip.
A wedding list, on the other hand, can be useful if you are not yet living together and want to set up home. On the other hand, if you already have a house of your own and are not lacking anything, you can still make a list with a few special and sought-after items, everything you have ever dreamed of. Making the perfect wish list has become so easy!
In both cases, the decision should be made before the invitations are sent out, so that you can give information about what you want to receive as a gift for your guests.
FLORAL ARRANGEMENTS AND FAVOURS
Flowers are another key element of a wedding. From the bouquet and the groom's buttonhole flower to the bracelets for the groomsmen and bridesmaids and the church and reception venue, everything should be in line with the theme and colours you have chosen for your wedding. The decision should of course fall on a flower of your preference, but make sure it is in season, otherwise you will have to have it flown in from abroad and the costs will increase considerably.
Wedding favours are the reminder that you will leave your guests of your wedding day. There are many possibilities here: from edible ones, such as bottles of limoncello or do-it-yourself honey bottles, to green ones, such as small sachets with seeds to plant or pots with succulents, to fair trade or traditional ones. The important thing is that they always match the theme of the wedding and leave something of the two of you behind.
WEDDING PARTICIPATIONS
Recently, the practice of sending the Save the Date before distributing the invitations has become widespread. This is how the bride and groom announce their wedding day. This is followed, no later than 3 months before the wedding, by the actual invitations. Once again, the co-ordinated approach is used: print menus, mass booklets and everything else on paper with the same graphics as the invitations, for a winning result!
Would you like this information in paper format?
Leave us your email and, once you click on the send button, you will immediately get the downloadable and printable pdf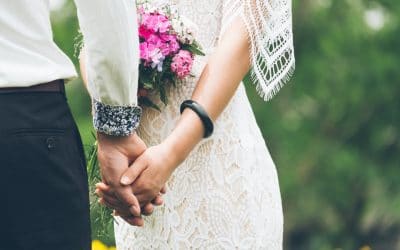 Do not forget... Here's what you absolutely must remember to have at your wedding!It all starts with an English tradition and is based on a phrase from the Victorian era: "Something old, something new. Something borrowed, something blue. And a silver sixpence in your...