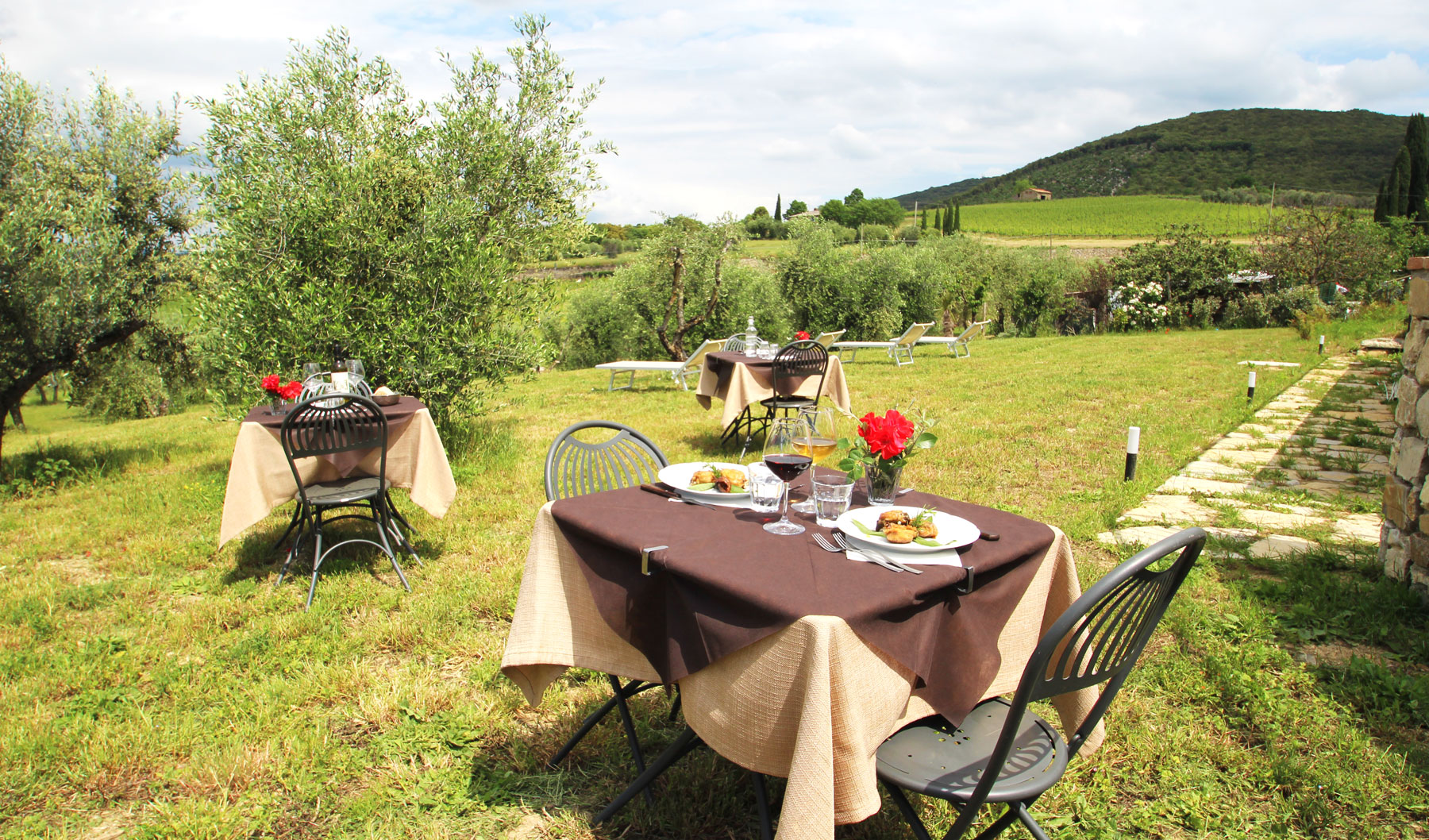 At Villa di Sotto Restaurant or in the NATURE!
For those who wish to have lunch or dinner at our restaurant, we have thought of a fantastic alternative: our beautiful ULIVETO.
Here you can enjoy the dishes of the typical Tuscan cuisine in peace and quiet and carefree.
You will find your table set at which you will be served. A unique experience with a breathtaking view.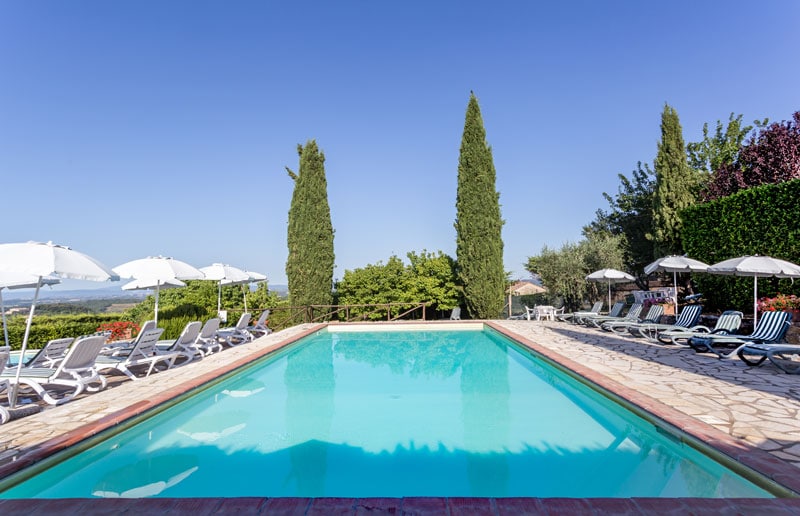 The depth of the 2 swimming pools is open to both children and adults. The swimming pools are fenced and exclusively reserved for guests of the rooms, apartments and Villa di Sotto restaurant.

In this area you can use the free wifi service.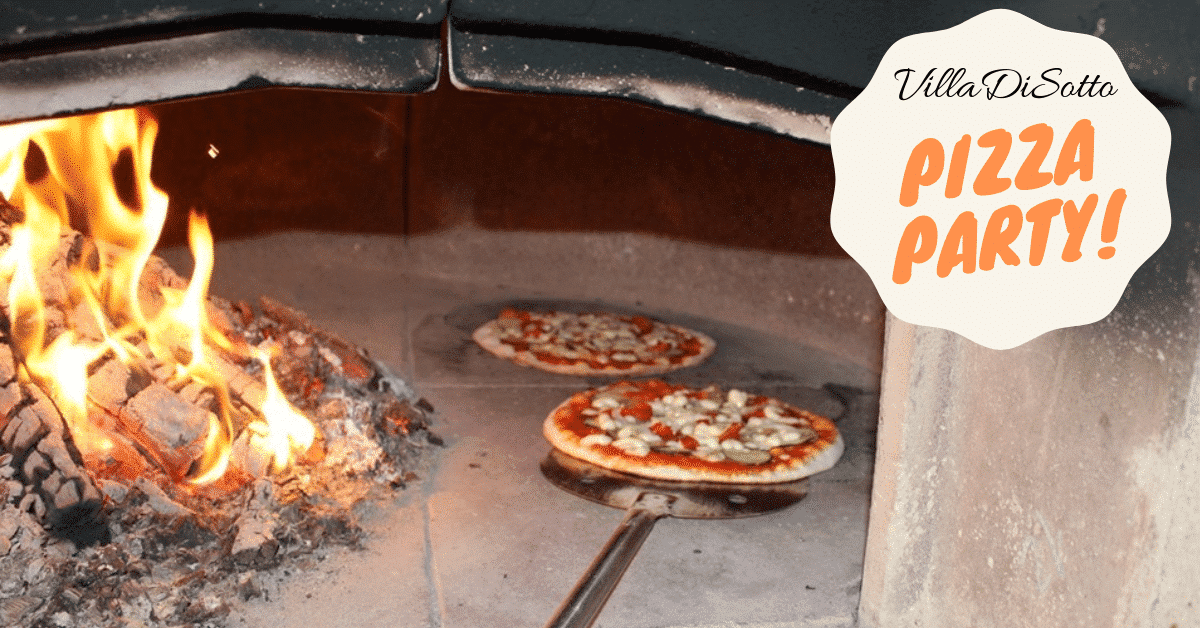 PIZZA PARTY! - Friday, Saturday and Sunday FOR DINNER
Our pizza is baked in a wood-fired oven and made with a mixture of old grain flour and mother yeast, double leavening, therefore very digestible and stuffed with top quality local ingredients.
You can see the pizzas churning out from your table, enjoying the panorama of Chianti and Siena, from our panoramic terrace or from our uliveto.
Also takeaway service!
The Tuscan cuisine Restaurant of Villa di Sotto offers a wonderful view of Chianti and Siena!
Spending time in our restaurant you can enjoy many preparations belonging to the typical Tuscan cuisine losing sight of the daily worries.
You can taste typical Tuscan cold cuts, pecorino cheeses combined with honeys and jams, bruschettas of all kinds, first courses based on fresh pasta, rustic soups, vegetables from the garden, meat sauce, grilled meat with particular attention to the typical and inevitable Bistecca alla fiorentina and Girarrosto, all accompanied by a selection of the best local wines of our Enoteca, which in addition to being tasted on site, can also be purchased.
We organize dinners and lunches for every type of event. It is also possible to customize each event both at the food and wine level and at the decorative level. The menu is à la carte, but it can also be agreed or it can be themed.
In addition to the main panoramic terrace, there is a private lounge above the restaurant, the ideal place to enjoy a moment in private and with a 360 degree view.
The restaurant is open from 12:30 until night and offers a full service that includes the possibility of brunch, lunch, aperitif and dinner. The restaurant of Villa di Sotto offers Tuscan cuisine dishes of typical Tuscan cuisine, using genuine products directly from the garden.
For the guests of the b&b: service … in the apartment!

Enjoy in peace and quiet the delicious typical Tuscan dishes in your apartment. How?

Ask for lunch or dinner during breakfast and no later than 11:00 am.
You will receive the dishes directly in your apartment, without the need to go to the restaurant.
News 2020
Fresh pasta to take away too!
Do you want to keep up to date with the latest news on our dishes? Follow the Facebook page of the Ristorante Villa di Sotto
Do you want to buy or give a prepaid voucher for our Restaurant?