Panzano in Chianti
Living in another era
The Via Chiantigiana is one of the most seductive streets of Chianti Classico. It winds through rolling hills, villages, castles and wineries where you can taste the famous DOC wine.
Panzano in Chianti is a quiet holiday resort located at 498 meters above sea level and is a hamlet of Greve in Chianti.
First of all, the castle of Panzano stands out, whose dating seems to date back to the eleventh century. Residence of the noble family Ricasoli Firidolfi, the castle was the scene throughout the Middle Ages of the clashes between Siena and Florence for control of the Chianti area, later also the internal struggles between guelfi and ghibellini that led to its partial destruction. Today we can admire the remains, among which stands out the ancient city walls preserved almost entirely.
Continuing through the village we find the Oratory of Sant'Eufrosino, the evangelizer of Chianti who lived and died in the area between the seventh and eighth centuries. According to tradition, the oratory was built right on his grave. The church has been rebuilt several times over the centuries.
The Sanctuary is a pilgrimage destination because of a spring located inside it, considered thaumaturgical and miraculous. It is a small temple consisting of two masonry columns and a sandstone lintel, inside which we find the source on which stands the bust of the saint. It is also evidence of the abundance of water that characterizes the area.
Why should you visit Panzano in Chianti
because it is a village on a human scale
because from its height it offers a breathtaking panorama
because the parish church of San Leonino is located close to the village
Continue with the discovery of Chianti…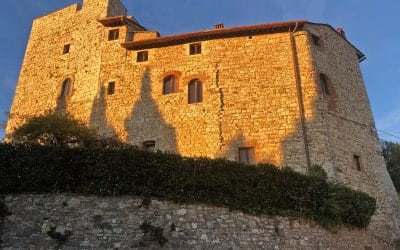 Vertine Fortified oasis in the Chianti mountains Vertine is one of the best preserved examples of military architecture in Chianti and more precisely in the municipality of Gaiole. The excellent condition in which it is located today, especially the castle with its...