Radda in Chianti
A place known for its evocative atmosphere and its marvelous landscapes
Radda in Chianti is a spectacular medieval village enclosed by massive defensive walls, located on top of the hill that divides the valleys of Arbia and Pesa.
To its typically medieval appearance, characterized by narrow streets and the classic tower buildings of the period, is added the traditional Tuscan charm of the local stone facades.
On the covered terrace of the Town Hall or the Palace of the Podestà, the walls are adorned with the shields of the various Podestas, with a legend to identify the various figures who exercised their power.
In front of the Palazzo del Podestà, the Propositura di San Niccolò stands out on the square with the fountain. Another interesting building is the Grand Duke's icehouse: it was built with the specific purpose of being filled during the winter with snow, so that it formed ice, stored – then – in a cool place so that it could be used throughout the summer.
Turning around the town and following the cobblestone streets and the "medieval walkways", you can breathe an atmosphere with a particularly quiet and evocative taste. Radda is a very active place, which offers many events including wine festivals, historical re-enactments and cultural activities.
Continue with the discovery of Chianti…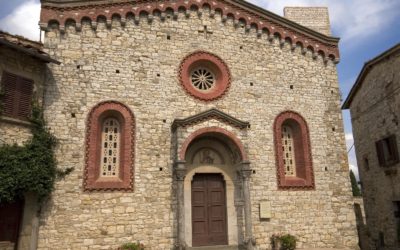 Vertine Fortified oasis in the Chianti mountains Vertine is one of the best preserved examples of military architecture in Chianti and more precisely in the municipality of Gaiole. The excellent condition in which it is located today, especially the castle with its...