Brolio Castle
Among thousands of colors and shades, soft hills, velvety valleys and thick woods
The Brolio Castle belongs to the Ricasoli family since 1141. Over the centuries, it has suffered destruction in numerous battles of which it still bears the signs.
The castle that we can admire today is the result of the reconstruction wanted by Bettino Ricasoli in the nineteenth century, according to the medieval taste of the time. I'm talking about beautiful Italian gardens with characteristic geometric shapes and a large romantic park surrounding the castle.
From there you can also enjoy a breathtaking view of the land of the Ricasoli family, famous wine producers. Bettino Ricasoli, known as the Iron Baron for his firmness and conviction in his ideals, was the first to mix three different grapes in determined quantities for the production of Chianti Classico DOC.
We remember him with pleasure because he traveled a lot bringing to Chianti avant-garde tools and always new knowledge.
According to a local legend, the ghost of Bettino Ricasoli wanders around the castle during full moon nights. Some have seen him walking alone or on horseback followed by hunting dogs. Moreover, it seems that the baron's bed was found undone several times after his death, just as if someone had actually slept there.
Continue with the discovery of Chianti…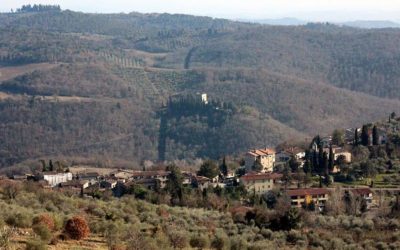 Lecchi in Chianti A suggestive and exciting placeThe characteristic village of Lecchi in Chianti is flanked along the main road that goes up to Ama. With its stone houses and a more than dignified church, this place is the ideal place for a break and for a walk among...