Badia a Coltibuono
Surrounded by large forests of silver fir and chestnut
In 1051 the monk Giovanni Gualberto received as a gift from powerful local feudal lords the church of San Lorenzo a Coltibuono with the request to build a residence for the clergy and a hospice for pilgrims.
Right from the start, a community of Benedictine monks was born who, thanks to their reforming and polemical spirit towards the rampant corruption of the clergy, received wide affection and consideration.
These monks did not only play a religious role, but also a political, social and economic one, favouring in a short time numerous donations of large properties by the aristocracy and modest plots of poor peasants, who were looking for shelter and protection in a turbulent historical period.
Moreover, the Vallombrosan monks proved to be attentive scholars and sensitive to the enhancement of natural resources. They gave, in fact, a new impetus to the cultivation of the land, in particular the vine and the olive tree, already practiced in this area by the Etruscans and Romans since 300 BC.
They were always responsible for the introduction of the cultivation of silver fir and chestnut; tree species still very much present in the woods surrounding the abbey. Alongside their agricultural activities, they devoted themselves to studies, hospitality and also to the care of the sick.
Today it is the Stucchi family that takes care of the property and maintains its commitment to organic farming, with the aim of preserving biodiversity and keeping the land healthy for future generations. In this place there are paths and white roads that represent, since the Etruscans and Romans, real pilgrimage routes.
Continue with the discovery of Chianti…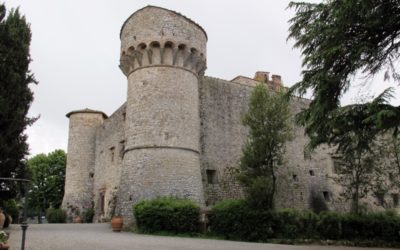 Castle of Meleto The true 18th century taste in Gaiole in ChiantiThe Castle of Meleto stands majestically in the enchanting landscape of Gaiole in Chianti, at the end of a pleasant avenue lined with cypresses and junipers. The structure stands in the middle of fields...